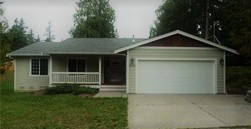 "I was in tears on more than one occasion…"
When we approached a mortgage broker about getting a home loan, she recommended we speak with Scott. She said she would "introduce us" via email, then we could decide if we wanted to use him or another agent.

We are certainly glad we decided to go with Scott. Not only was he a continual professional, he went above and beyond what most agents are willing to do. We had a terrible time with the mortgage company we used and I was in tears on more than one occasion.

What other agent would be the "go-to" person to talk us through these tough situations? He not only provided us with outstanding real estate ideas, but he used his contracting skills to assist us in looking for good and bad options and things about each house we looked at.

In the end, I would not hesitate to highly recommend Scott to anyone who needs to buy a house.

Thank you again, Scott, for your hard work, diligence, compassion, and a willingness to help us find our first home. We couldn't be happier!

— Lara C., Buyer Client